I have to preface this post by saying nothing will ever replace crop tops in my heart. Nothing. Feeling myself hard enough to wear a crop top was a life-changing experience. I understand how trivial that sounds but imagine if you were my fupa and you spent your entire life in hiding and one day, a magical piece of clothing set you free. So, yeah. Just let that simmer for a while.
Even though crop tops were my number one middle finger to fatphobic fashion, mesh tops are really rising to the top of my list. But how about a mesh top you can tie into a knotted crop? Mind blown.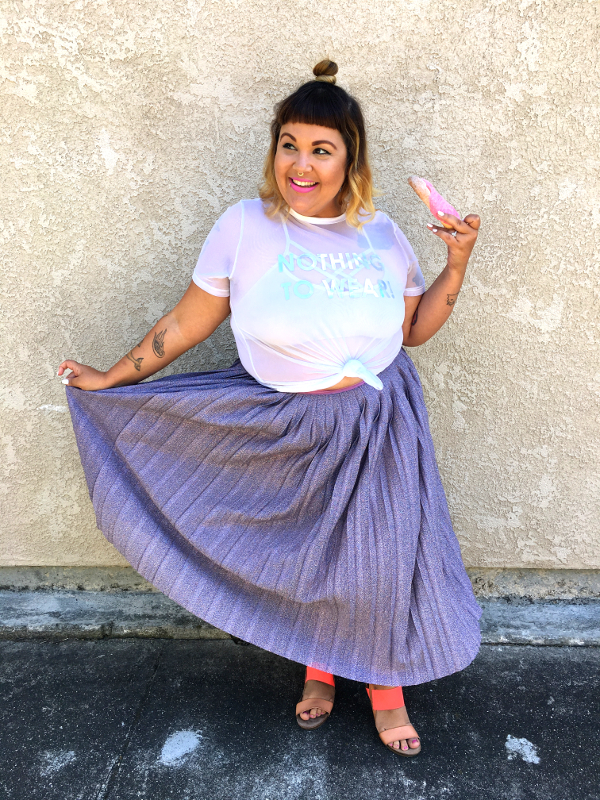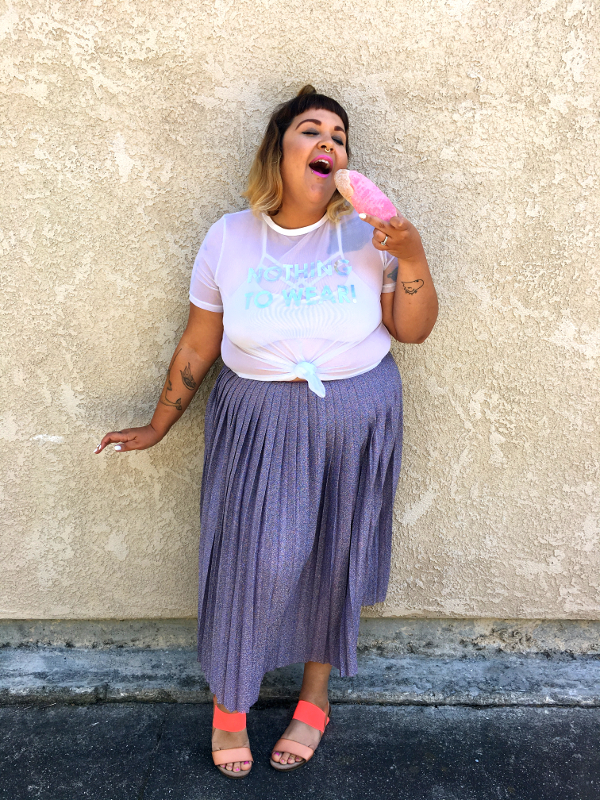 It was Mother's Day and I was having a MOMENT with this concha. Not only was it the best I have had since I was a kid, it fucking matched my lipstick. I need to work with food props more often.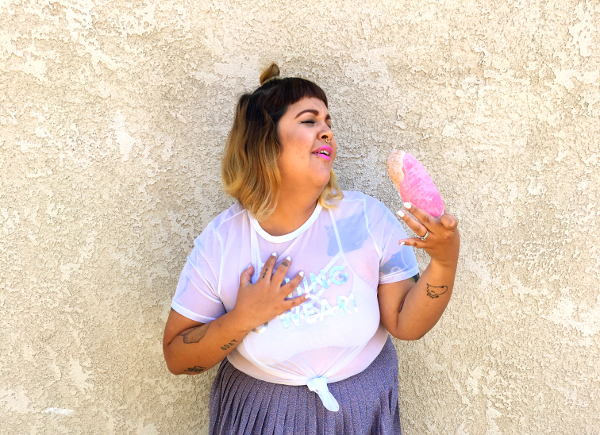 "Corazooooooooooooon."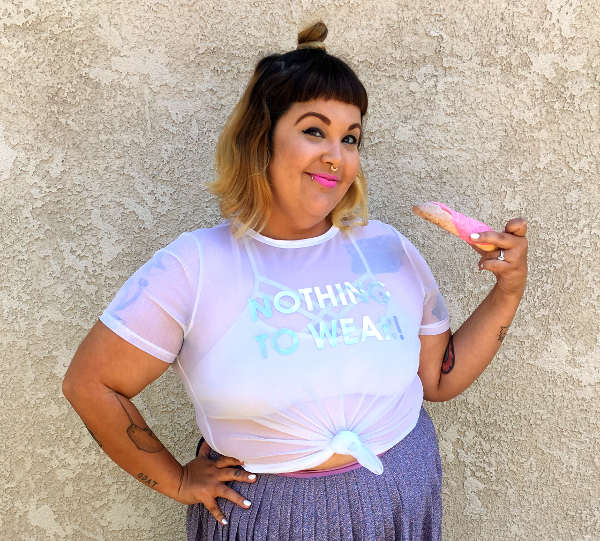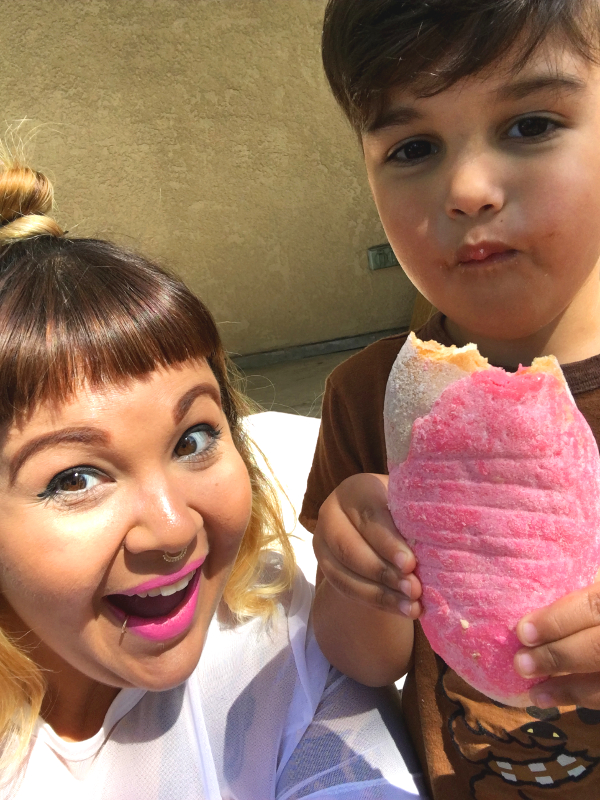 Sure fine I gave you life but I can see that's not enough so here take my delicious concha. Grumble.
I actually blame the serendipitous concha/lipstick matching to my recent pinktastic episodes in which I just pile on the blush and bashful to an obscene degree like right about now…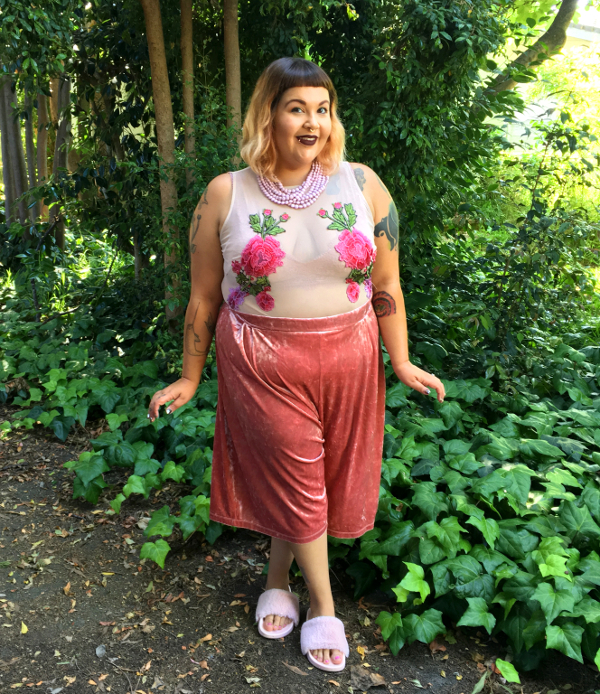 Yep. Those are fuzzy pink sandals. And pink velvet.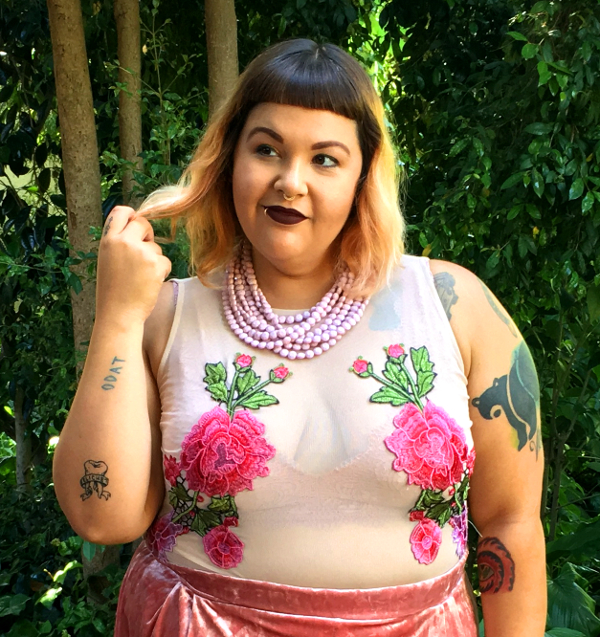 And my hair is a wee bit pink.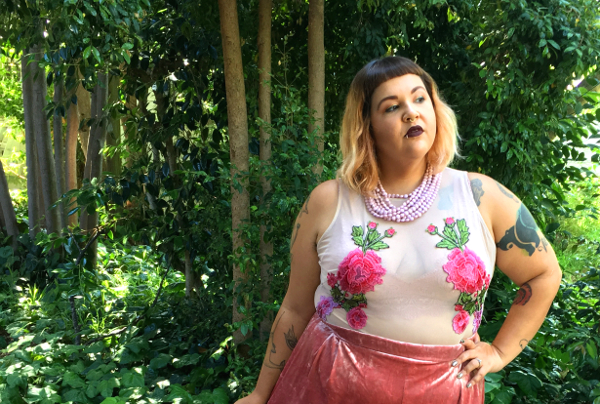 And it's imperative that I talk about this bralette I am wearing–my first purchase from Rue 21. While I love bralettes and have learned to embrace my natural breast shape in return for ditching fucking underwires, this magical thing told me I could have it all. It has structure AND comfort. It is Christmas.
So do you guys remember those Magic Slate things where you can draw or write on neon pink plastic that clings to a white board underneath? This top makes me feel like a human version of that.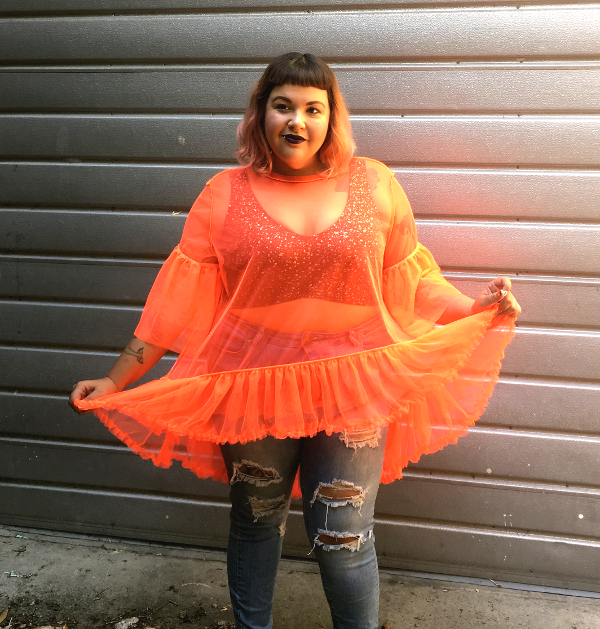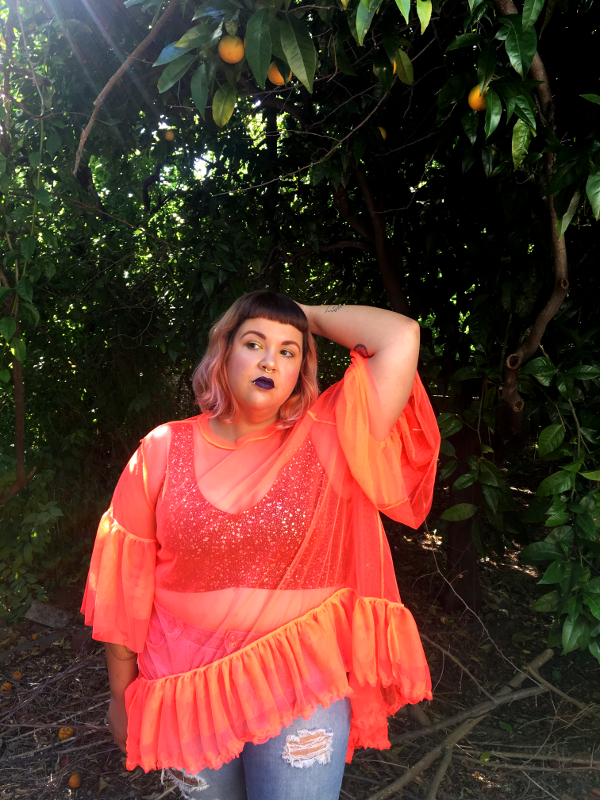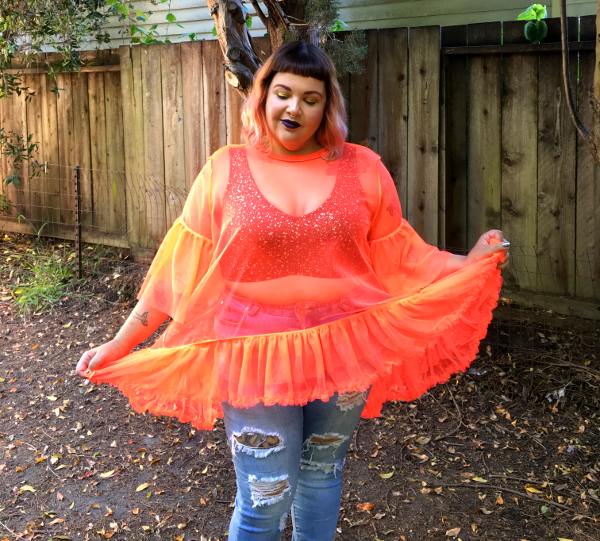 No need to stop, drop, and roll. I am not really on fire.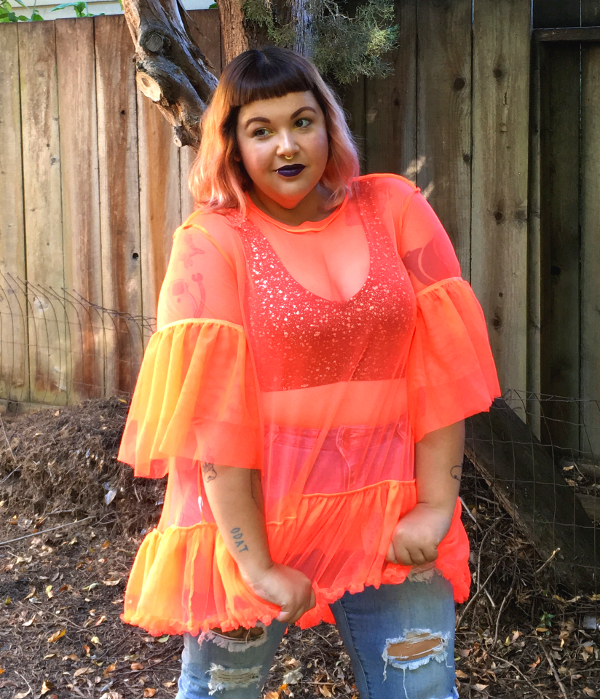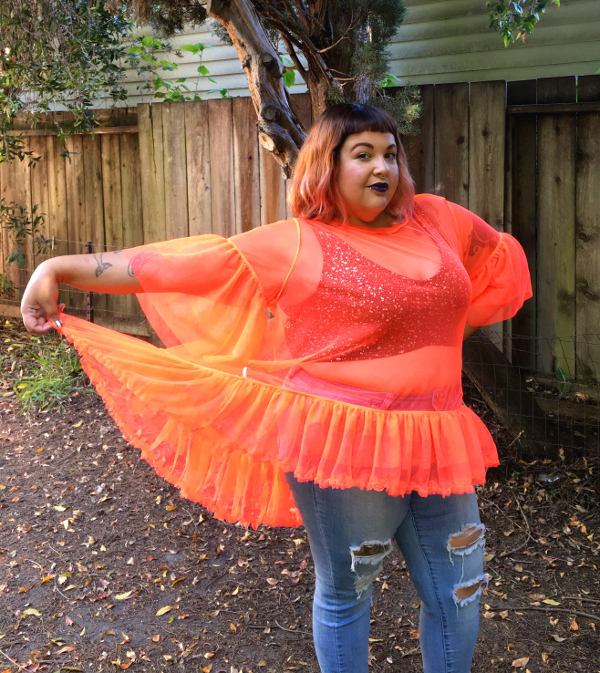 Mirror nails and glitter eyes. My middle name is toofuckingmuchomgstop. I scare myself sometimes.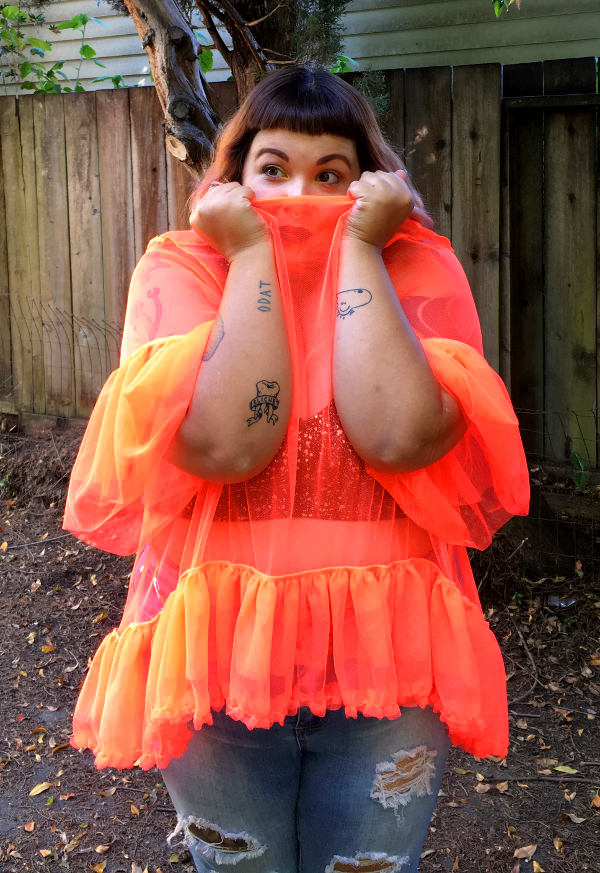 See?
Shopping Linkies:
Nothing to wear top | Forever 21 (Get 2% Cash Back at Ebates! Join here.)
Floral mesh bodysuit | Forever 21
Velvet pants | Rue 107
Lace bralette | Rue 21
Faux fur sandals | Amazon
Neon mesh top | ASOS (Get 5% Cash Back at Ebates! Join here.)
**Please support the links that support this blog!